The Best Foil Kits and Foiling Products from Cloud 9 Surf Foils Australia
Foiling is becoming widespread not just in Australia, but in many other water-loving communities as well. Also known as hydrofoils, foil boards are fun, thrilling, and exciting ways to enjoy the water.
With the growth of foiling over the years, many manufacturers took the opportunity and created advanced foil boards and foiling sets to supply the demand in the market. One Australian brand that took the challenge was Cloud9 Surf Foils, and they came to deliver!
In this article, we will give you a glimpse of the brand that's taking over the foiling world, and their products that will sweep you off your feet.
A Quick Guide to Foiling and Foil Kits
If you're new here, then you probably have a question two about foiling. What is it? Why is it called "foiling" in the first place? What is the physics behind hydrofoils? And most of all, can you build your own foil kit? 
Before we talk more about Cloud 9 Surf Foils, let's know the basics about foiling first!
A foil board is a type of surfboard that gives you an impression of "flying" above the water. It is equipped with a hydrofoil that extends below the board into the water. This attachment allows the foil board to be lifted off the water's surface, setting it off and letting the board "fly". Once a foil board flies off the surface, the rider experiences a more stable, less bumpy ride.
A hydrofoil may be manual or electric. Either way, it is one of the most complex water sports equipment when it comes to build and mechanism. But that doesn't make it that complicated to ride.
They are designed slightly smaller than surfboards. Although they are smaller in size, they can be more challenging to ride and operate. This is because the rider would have to control their weight and height to get the best results.
Hydrofoil boards have long tailfin-like attachments underneath. Beneath that long fin are "wings" or the airplane-like attachment that propels the whole thing. When the hydrofoil is powered by batteries and a motor, that's when it becomes an electric hydrofoil board.
Newton's third law of motion ("For every action, there is an equal and opposite reaction.") is applied on hydrofoil boards. In this case, the action is water accelerating downward, and the opposite reaction would be the upward force lifting the foil board out of the water.  
Parts of a Hydrofoil Board
Mast- it is also called the column or a tree. It is the part of the hydrofoil that attaches the board and the fuselage together. The space it creates between the board and the wings allows the rider to glide over the water. Its height is important as it is directly related to the behavior of the hydrofoil, and it's one of the first things you should be considering when you buy a hydrofoil board.
Front and Rear wings – a hydrofoil board's front and rear wings are responsible for carrying speed and stability. Taking for example Cloud9 Surf Foil's F28 tail wing, it's a "quick wing that carries incredible speed down the line and through the turns". The wings are responsible for offering glides and lifts to the board.
Fuselage – it is the horizontal pole that connects both the rear and front wings together. When connected to the mast, the hydrofoil is formed. Aside from being a connection to the wings, it also sets up the foil's geometry. It also establishes how far forward the front wing is placed. This then affects the foil board's speed, glide, turn, and upwind/downwind performance.
Propeller – electric foil boards are powered by propellers. An eFoil is a type of hydrofoil board that is installed with an electric propeller. The electric propeller that's powered by a motor and a rechargeable battery allows for a smooth, silent, and eco-friendly ride above the water.
Board – the board is where the rider mounts himself. It is connected to the mast, and is commonly epoxy, carbon fibre, or inflatable. It is designed a little smaller than surf boards, but none the less exciting.
All About Cloud9 Surf Foils Australia
Cloud9 Surf Foils, originally named Pelican Surffoils, was established in 2016. This was all thanks to the curiosity of its two founders, Chris Gutzeit and Kent Hardley who witnessed Kai Lenny "defying the laws of physics as he flew over the sea."
This mind-blowing experience eventually led the two kite foilers to creating their own hydrofoil boards. After producing a successful prototype, and thanks to their numerous connections within the business and watersports industry, Cloud9 Surf Foils was born.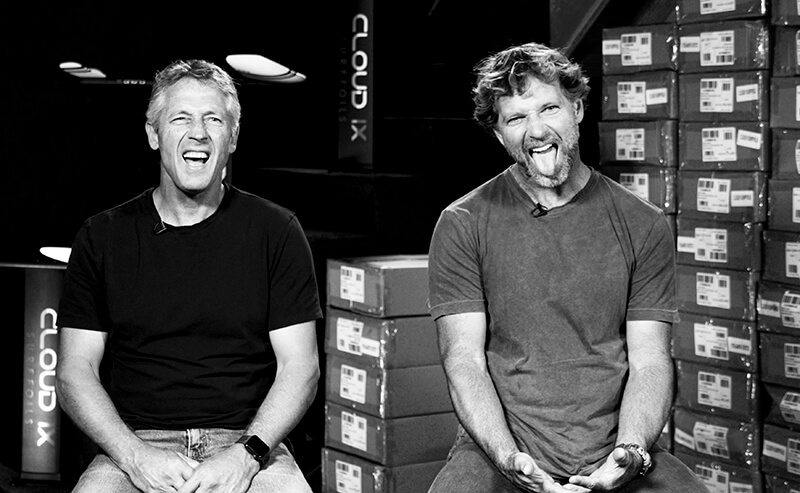 Almost six years since its establishment, Cloud9 has offered a wide range of foiling products. From carbon masts to complete foiling kits—name it, they have it!
They have dealers all across Australia who carry their range of surf foiling products, and one of them is The Boating Emporium. Let's take a look at their variety of hydrofoil and surf foil products now, shall we?
Cloud 9 Surf Foil Wind Wings
The team of experts from Cloud 9 Surf Foils are firm believers of innovation in their products. This is why they worked hard to perfect one of the best wings in the market yet, the Wind Wings.
Creating the Wind Wings was a collaboration among the brand's founders and their team of experienced foilers. It's constructed with feather weight to ensure balanced an easy handling for the best riding experience.
The Wind Wing has an efficient profile, and a slightly V-shaped canopy that increases the wing's overall stiffness, offering a very powerful and responsive foiling wing. It comes with a single handle on the edge—just simply grab on to it and take control of your ride!
Cloud 9 Surf Foil F Series Wings: Carbon ( FS 13.5 Carbon Tail Wing)
The F Series Wings from Cloud 9 Surf Foils are designed to introduce a new meaning of balance between pumping and carving wings during the surf. The solid carbon tail from Cloud 9 comes in 7different units—the FS 13.5 (tail), F15 (tail), F24, F28, F32, F38 and F42.
Each model is designed to create a fast, thin wing that increases the rider's speed and allows them to pump further down the water with less effort. Their design lets the rider make hard turns easy as pi.
The improved Solid Carbon built of the F Series Wings from Cloud 9 is an obvious upgrade from their previous G10 fibreglass prototypes, and these foil wings are more responsive than ever!
Cloud 9 Surf Foil Complete Foil Kit (Aluminium and Carbon/Carbon)
 From Cloud 9 come two complete foiling kits that's mixed up to fit the rider's preference. One kit comes with full carbon wings, aluminium mast and fuselage, and stainless-steel fittings. This kit offers light-weight wings, but slightly heavier mast and fuselage.
The other kit comes with the same parts, only with a full carbon build. This set comes at a higher price since carbon is generally lighter and more durable than aluminium. This foiling kit is perfect both for beginners and experienced riders who want to make the most out of foiling.
Cloud 9 Surf Foil Wind Wing and Epoxy Board
The Wind Wing Board 105 from Cloud9, is designed by Blane Chambers to deliver in more than one aspect—lightweight but strong enough to take big jumps, easy pumping, and an epoxy build that makes up for increased buoyancy.  
On the other hand, the Carbon Epoxy Prone Boards, also designed by Chambers, shaped specifically to meet foiling requirements other boards tend to overlook. These carbon boards are lightweight but strong, hand-crafted to perfection by one of the leading manufacturing companies in the Gold Coast. The Epoxy Prone Board is also fitted with strap inserts once you decide to go wild on the water!
Cloud 9 Surf Foils Glide Guide
To make sure that your ride is tailor-fit and more exciting, Cloud 9 Surf Foils has come up with a "glide guide" that's easy to remember. With a comprehensive guide like this, you will know which board or wings are the best for you. Let's take a look!
Wind Wing Foiling (50-70kg weight) – a 4.2 mtr – 5mtr Wing would be the best choice for people in this weight range. They can also opt for an F32 full-carbon wing, and a 105 ltr board.
Wind Wing Foiling (70-100kg weight) – a 5-6.7 mtr Wing would best suit this range. Anything between an F-38 and F-42 full carbon wing is suggested, and a 105ltr board will complete the ensemble.
Prone Foiling (50-70kg weight) – for prone foiling or paddle foiling in the waves, a 4.2-4.8ft Prone Board is recommended. They can also go for an F28 or F32 foil wing to complete the set.
Prone Foiling (70-100kg weight) – a 4.4-5.0 ft Prone Board along with an F32 full-carbon wing is recommended for this range.
Tow Foiling – this is done when the foil board is towed behind a ski in the ocean. For this watersports activity, it is recommended to use a 4.2ft board, and either the F24 or F28 full-carbon wing.
Wake Surfing – when wake surfing with a foil board behind a boat, a 4.2ft board with an F28 or F32 wing is recommended.
SUP Foiling – Any Cloud 9 Surf Foil foil board can be used as a Stand-up Paddleboard (SUP). For the best experience, it's recommended to equip it with an F32 full-carbon wing.
We hope that this quick guide will help you enjoy your own Cloud 9 experience!
Buy Cloud 9 Surf Foil Foiling Products from The Boating Emporium
As we mentioned earlier in this write-up, Cloud 9 has partnered with trusted watersports equipment dealers all through out Australia. The Boating Emporium is one of their proud dealers who make these quality foiling products more accessible to every Australian.
As part of the water-loving community ourselves, we take pride in the products that we offer our customers. Some being our range of foiling kits and wings from Cloud 9 Surf Foils. We also carry various watersports and boating equipment from trusted brands to help our clients enjoy their journey in the water!
If you want to know more about our collection, visit our website at www.theboatingemporium.com.au! You can call us at our toll-free number 1300-987-441, or email us at info@theboatingemporium.com.au. Our friendly staff will be happy to assist you with your needs and queries!
Don't wait another day to experience the best foiling kits and products from Cloud 9 Surf Foils! Get your own from The Boating Emporium today!